Summer Work Readiness 2020 Impact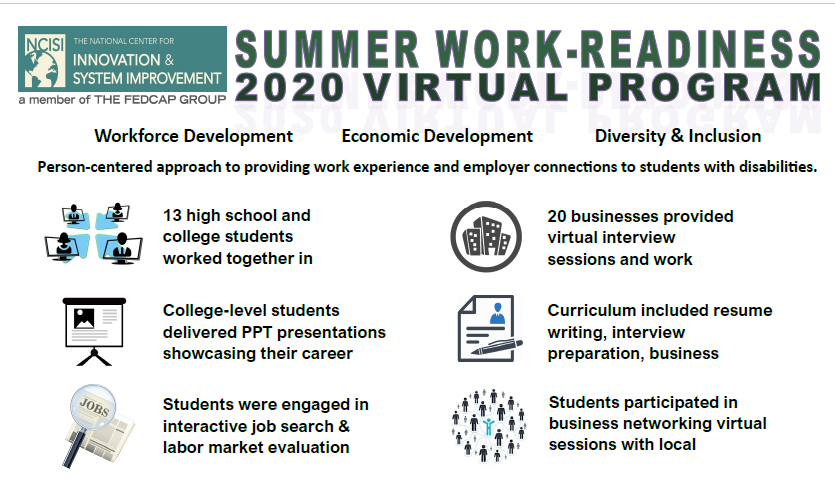 Sponsored by the RI Office of Rehabilitation Services, the NCISI Summer Program helped over 80 college and high school students gain work experience and employer connections since 2016.
Summer of 2020 presented it's challenges but we continued to work together on this important initiative and are happy to report our virtual program successfully connected 13 students with disabilities to over 20 employers. Students participated in over 60 hours of virtual curriculum focusing on career exploration, job skills, communication skills, performance reviews & importance of networking.
In addition to the virtual job development curriculum, each student was provided with one-on-one employability assessment and interview training with employers while growing their professional network. College-level students worked with businesses on virtual projects related to their field of study and showcased a PowerPoint presentation on their summer work experience and career goals.
Together we continue to make an incredible impact towards an inclusive and strong employment culture for all.
Thank you for your dedication & support!
Companies who worked with us this Summer of 2020:
· Adoption RI
· Aetna
· Bryant University
· Complete Payroll Solutions
· CVS Health
· Domestic Violence Center of South County
· Easterseals RI Early Intervention Services
· Englund Studios
· Estee Lauder Ralph Lauren
· FM Global
· Greysmith Companies
· Morgan Stanley Wealth Management
· Newberry Public Relations
· Oomph Marketing
· PDP Networking Group
· Rhode Island PBS
· The Kraft Group
· Twisted Networking
· US Coast Guard and US National Guard
· Wendy's Corporation
Multimedia materials: